LEONARDO Luxury Ministerial Lamp - Solid Brass - Made in Italy

4 questions about the product | Post your question
Leonardo is a Luxury Ministerial Lamp made in Italy with extreme attention to detail. All our collections are handmade, created by expert Italian craftsmen.
✔ Created in Italy by expert craftsmen
✔ Free returns within 14 days
✔ Free Shipping
✔ High quality materials
✔ Solid brass with anti-oxidation treatment
Safe Payments
We use the most popular and 100% secure payment systems
Safe Packaging
Products protected with impact-resistant packaging
Free 14 day return
You can return products without having to explain to us
Height: 47cm
Width: 26cm
Depth: 25cm
Leonardo Da Vinci invented extraordinary machines whose designs were centered on man, on the possibility of giving human beings the ability to fly or do things then considered impossible. The Vitruvian Man demonstrates how man was at the center of everything and that the human intellect could reach anywhere.

We dedicated this model of luxury ministerial lamp to Leonardo precisely because we believe in man's ability to create beauty and expand his knowledge beyond all limits. Leonardo is a ministerial lamp made entirely by hand by expert craftsmen with the highest quality products: the glass of the lampshade contains the radiation of the light and directs it onto the desk. Leonardo is a luxury desk lamp with a sinuous, soft and at the same time solid body, made with solid brass and antioxidant treatment capable of resisting the passage of time.

Leonardo's intuitions have remained in history, as has the ministerial lamp, a desk lamp as simple as it is refined. Also known as Emeralite or banker's lamp, this furnishing object is now synonymous with elegance because it creates a deep and soft atmosphere, ideal for concentration.


// ITALIAN DESIGN
The glass lampshade of the lamp will create an elegant and refined atmosphere in your location. The lamp can be turned on with a chain switch. The base of the lamp is created in cast brass which gives structure and solidity. Unlike the low-quality, low-priced imitations you may find on the market, these lamps are handcrafted using high-quality materials and solid brass with anti-oxidation treatment . The weight is approximately 3.5 kg (7.71 lbs), demonstrating the solidity and strength of the product. Sometimes there may be some small bubbles on the surface of the glass, it is absolutely normal due to the craftsmanship of the glass.


// OUR 100% SATISFACTION GUARANTEE
Our #1 priority at Vintage Lighting is the happiness of our customers and those we serve. Which means we do everything possible and impossible to make you have a satisfying experience with us, no matter what, no questions asked, no ifs or buts. If a customer experiences a problem, we will do everything we can to resolve it as quickly as possible.


// FREE AND SECURE SHIPPING WORLDWIDE
Due to the extreme fragility of this product, we use safe and durable packaging materials. All items are shipped with priority air shipping directly from Italy (our headquarters are near Venice). Delivery times are 2-3 days in Europe and 5-6 days in the rest of the world.
All shipments are insured against damage. In the unlikely event that the item arrives damaged, we will send another one at our expense.


// SAFETY
All lamps are made in Italy with materials that comply with the strictest Italian and European regulations in terms of safety.


// HISTORY OF THE MINISTERIAL LAMP
The first patent for the Ministerial Lamp was filed on May 11, 1909 by Harrison D. McFaddin and they were produced and sold under the brand name Emeralite ("emerald" and "light"). The banker's lamp (or emeralite) is often used in libraries, law firms and the most prestigious offices around the world. The lamp has become famous thanks to its presence in many films and TV series. Our collections have been used in national and international film sets, as you can see in the photos. Read the full story of the ministerial lamp

Safe packing method

The glass is wrapped in bubble wrap to avoid damage




The lamp is wrapped with air cushions so that there is no room for movement and it is further protected




The lamp box is inserted inside another box which allows it to resist even falls




The package is protected with polystyrene filling material




The package is ready to leave and reach you without problems!


Bulb included

no

Place of production

Italy

Number of lights

1

Type of source

Halogen energy saver or led

Emission light

widespread

Bulb holder

E27 (normal attack)

Max

60 WATT
We understand the importance of receiving your purchases in perfect condition, which is why we take special care in packaging the products, especially the more fragile ones.
We know all too well how (sometimes) couriers handle packages! For us, it's extremely important that your experience with us is satisfying from the moment you enter our site until you open the package containing what you have ordered.
For this reason, we use a high-protection system to pack and protect the products you buy. A polyurethane foam is injected that expands inside the package to lock the products inside and protect them from shocks.
In the video and images below, you can see how your order will arrive.
Remember that, in the rare case that the product arrives damaged, we will send you a replacement part at our expense as soon as possible.


[VIDEO] How we package the products:

How you will receive your order:

The polyurethane foam adapts to the profiles of the products and protects them against possible damage caused by impacts or vibrations.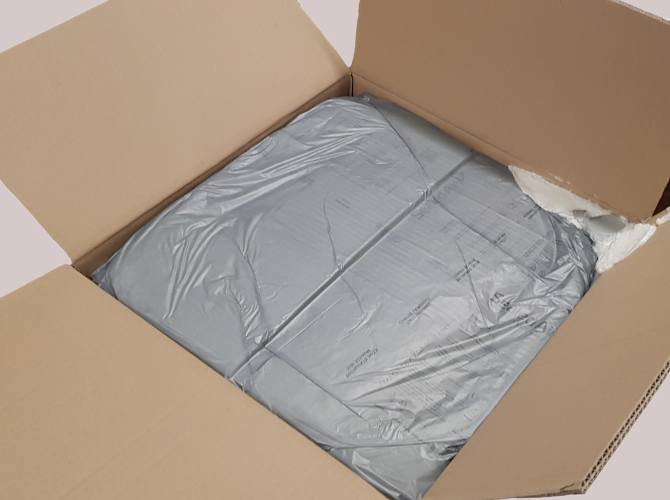 Each product is meticulously packaged, ensuring that it is well protected and secure inside the package. Our priority is to ensure that what you buy arrives in the same condition as it left our warehouse.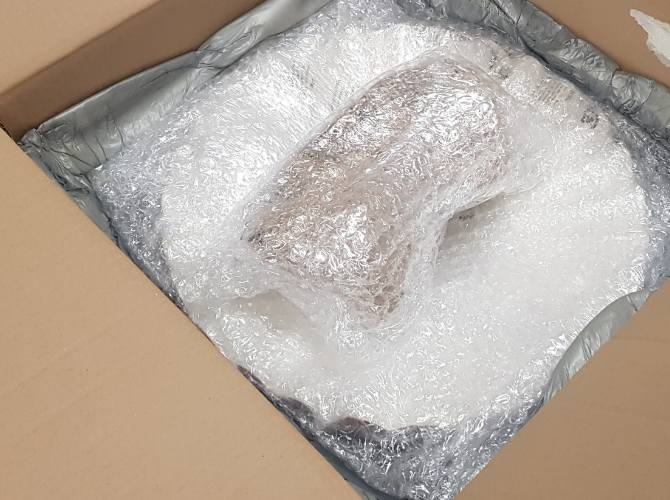 How much does shipping cost?
For Italy, shipping is free for orders over €85. For orders under 85€ the shipping cost is 4,90€. In European countries shipping is FREE for orders over 250€. For orders up to 250 € the shipping cost is 19 €. For countries outside the European Union, shipping is FREE for orders over € 450. For orders up to € 450 the shipping cost is € 100.
For orders over 1,000€ in value, we ask that you contact us to verify the shipping cost.
What are the delivery times?
Usually 24/48 hours in Italy. For European countries the delivery time is 2/3 working days. For non-EU countries from 4 to 7 days.
Are all shipments traceable?
Certainly, we use the best national and international express courier services.
Where can I find the tracking number?
As soon as the tracking number has been issued, you will be able to find it.
As soon as the package is handed over to the courier, you will receive an email containing the tracking number with all the details about the delivery status.
Maurizio on 2021-09-28 10:02:06

Question: Buongiorno, gradirei avere alcune informazioni (oltre ad un recapito telefonico): - se tutti i componenti della lampada sono di ottone massiccio e se lo è anche lo 'stelo'; - se l'ottone lucido è portato, col tempo ad 'opacizzare'; - quali sono le modalità di pagamento; - quali sono i tempi di consegna; - per quanto tempo è garantito il prodotto; - se il prodotto è interamente realizzato in Italia (si può conoscere il nome del costruttore?). Grazie. Rimango in attesa di riscontro.

Answer: Buongiorno Maurizio, Grazie per averci contattato. Le lascio qui di seguito le informazioni da lei richieste: il nostro recapito telefonico è (+39) 0444 1496484. Tutte le nostre lampade ministeriali sono fatte a mano con estrema attenzione ai dettagli e sono completamente realizzate in ottone massiccio con trattamento antiossidazione. Non abbiamo una garanzia standard, ma facciamo il possibile e l"impossibile per rendere soddisfatti i nostri clienti, proprio per questo garantiamo la nostra totale assistenza anche dopo lunghi periodi dall"acquisto delle nostre lampade. Può scegliere tra quattro diverse modalità di pagamento: bonifico bancario, carta di credito, Paypal, o in contanti alla consegna. I tempi di consegna sono di 24/48 ore in Italia, 2/3 giorni in Europa, 6/7 giorni Extra UE. Se desidera può lasciarmi il suo recapito telefonico così provvederò a chiamarla per rispondere alle sue domande e per fare chiarezza su eventuali dubbi. Resto a sua disposizione, Silvia di Illuminazione d"Epoca.
Luisa Broli on 2017-02-05 03:31:44

Question: Buongiorno, vorrei sapere per cortesia se questo prodotto è disponibile anche con vetro blu anziché verde. Grazie infinite Luisa Broli

Answer: Buon pomeriggio Luisa, si possiamo sostituire il vetro il costo per l"operazione è di 25 euro. Resto a disposizione. Anna
Gennaro on 2017-01-08 12:08:57

Question: L'altezza massima di questa lampada è di cm.47. Sono da intendere dalla base sino al punto massimo del vetro con la massima estenzione del braccio? Grazie.

Answer: Buongiorno Gennaro, si esattamente. Anna
paolo faggioni on 2016-12-10 18:57:28

Question: Gentili Signori, desidero sapere se tutte le parti della lampada (a parte il paralume, ovviamente) sono in ottone massiccio e se la base e lo stelo sono torniti. saluti paolo fahhioni

Answer: Buonasera Paolo, li le confermo che tutte le lampade ministeriali sono in ottone massiccio e base/stelo sono torniti. Un saluto, Anna